CAMPBELL® Introduces New Swivel Hoist Hooks
Redesigned latch assembly features extra-thick steel construction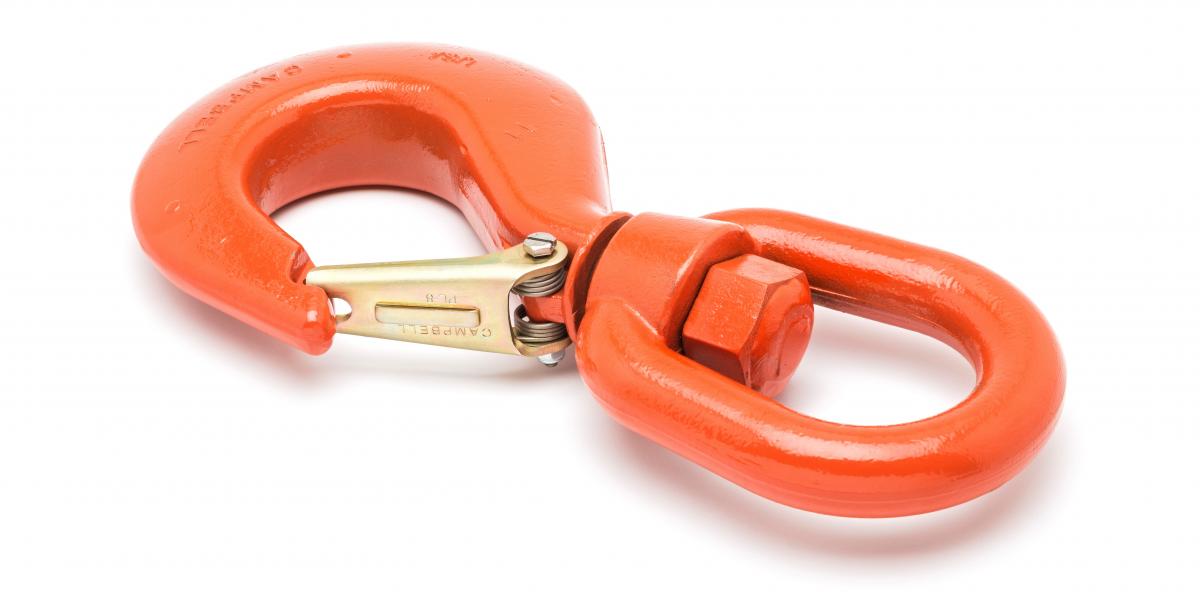 Campbell® Cat. No. 3953115PL 11-Ton Steel Alloy Swivel Hoist Hook with Latch
Sparks, Maryland – Campbell®, a premier brand of chain and fittings from Apex Tool Group, today announced its new Swivel Hoist Hooks. The new hooks feature a heavy-duty latch and spring assembly and other improvements.
The new latch and spring assembly is designed for exceptional durability. The heavy-gauge, high-strength steel latch with reinforcing rib provides ultimate rigidity and bending resistance and has a yellow chromate finish for corrosion resistance. The double-strength spring ensures the latch is held against the hook to securely retain slings and other components. For added durability, the hooks are designed with dual forged support bosses, providing lateral support for precise latch/hook alignment and engagement.
"These U.S.-made Swivel Hoist Hooks are the toughest Campbell has ever offered," said Lyn Bethea, Campbell product manager. "Users need equipment that is strong, long-lasting, and easy to use. These new Swivel Hoist Hooks live up to the rigorous demands of rigging and lifting on the jobsite."
With a 5:1 design factor, the new Swivel Hoist Hooks meet or exceed the requirements of ASME B30.10. The working load limit ranges from 3/4 ton to 22 tons, with hooks available in carbon steel (blue) or alloy steel (orange).
Along with Rated Capacity and Made in USA markings, two new hallmarks are forged into each hook: A Latch Code for easy, accurate replacement ordering and 45-degree Guide Markings on both sides of the hook. For more information about Campbell Swivel Hoist Hooks, visit www.campbellchainandfittings.com.
###
About Campbell 
Campbell, a premier brand from Apex Tool Group, is a leading brand of chain and fittings. The brand is recognized the world over for its product quality and outstanding customer service programs. Campbell has strategically located distribution and service centers throughout the U.S. and Canada. Campbell pioneered the development of Grade 100 chain and fittings, providing chain users with lighter, more ergonomic, and less expensive chain assemblies. For more information, visit www.campbellchainandfittings.com.
About Apex Tool Group
Apex Tool Group, LLC, based in Sparks, MD, is one of the largest worldwide producers of industrial hand and power tools, tool storage, drill chucks, chain, and electronic soldering products. Apex serves a multitude of global markets, including automotive, aerospace, electronics, energy, hardware, industrial, and consumer retail. For more information, visit www.apextoolgroup.com.
Media Contact:
Bill Bliss
919-924-6268
bill.bliss@apextoolgroup.com